Watch Video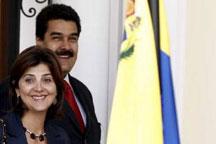 Play Video
Colombian Foreign Minister Maria Angela Olguin has met her Venezuelan counterpart Nicolas Maduro. The meetings came as both countries look forward to restoring diplomatic ties that broke off in July.
Last week, the two nations agreed to set a new start in relations for the sake of peace in the region, and to reestablish their annual seven billion US dollar bilateral trade.
A series of accords have been signed to create committees to deal with cross-border security, infrastructure and trade. Foreign Ministers from the two countries are optimistic about building a steady and lasting relationship after a rocky period.
Maria Angela Olguin, Colombian Foreign Minister, said, "It's hopeful that we will establish the basis of a stable and long-term relationship without highs and lows. Peoples who are practically brothers deserve the fruits of a true union. They should have a very productive and peaceful destiny, with greater solidarity from the governments."-
Nicolas Maduro, Venezuelan Foreign Minister, said, "The work meetings are indeed a good step and may open the path to a permanent, stable, and lasting relation. Also, they might allow us to give our peoples, as our liberator used to say, the largest possible amount of happiness".
Editor:Zhang Pengfei |Source: CNTV.CN