Watch Video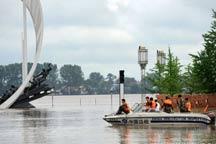 Play Video
Four people are dead, one is missing and more than 64,000 others have been forced to evacuate their homes in Dandong city in Northeast China's Liaoning Province.
Heavy rainfall began pounding the city early Friday. The downpours drastically raised the water level of the nearby Yalu river. Many areas in Dandong City are flooded. Hundreds of houses collapsed. Transport, communications and power supplies in some areas were cut off.
Gulouzi Township was inundated in flood water because of heavy rainfall the past two days.
More than 50 residents were still trapped by the sudden floods Friday.
Helicopters dispatched by the Transportation Ministry were on a special mission to evacuate them.
The flooding of the Yalu River caused damage along the way, roads and bridges were destroyed and houses collapsed.
An elderly woman was the first to be lifted to safety.
Her husband and their granddaughter followed.
One by one, the trapped people were all rescued.
They were taken to a local school which is a temporary relocation center.
There are still many people trapped like these people in Gulouzi Township.
The helicopters were dispatched for other missions to save more trapped residents.
Editor:Xiong Qu |Source: CNTV.CN