Watch Video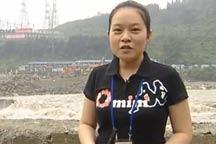 Play Video
Wenchuan County is suffering its second major natural disaster in just over two years, and Yingxiu Township has been at great risk, with the area threatened by flooding from the Minjiang River. Our reporter, Gui Xiaozeng, is in the danger zone to see how rescue and relief workers are laboring to protect local residents.
This is the seventh explosion, yet the most powerful one so far.
"I'm now standing right next to the Minjiang River ... that was built after the May 12th earthquake in 2008."
The newly built residential communities of Yingxiu are located in the valley between two mountains. The Minjiang River flows right besides them. When the first rain-triggered mudslide struck the town last Saturday, debris and rubble completely blocked the flow of water, forming two barrier lakes which submerged part of the town.
Armed police and rescue workers rushed to dig a passage to let out the water, and prevent it from pouring into Yingxiu. The local government also raced against time to build an embankment on the outskirts of the town. At a critical moment, the water burst the river bank, and breached a gap in the existing flood wall. In a way, that was a good thing, as it helped the water to quickly flow downstream, and diverted some pressure from the temporary embankment.
However, a second mudslide caused by sudden heavy rain on Wednesday night partially blocked the waterway again. That led to the immediate decision to carry out the explosion on Friday night to demolish the new barrier in the middle of the river. The operation alone used several tons of explosives. Fortunately the explosion was a success.
However, rescue workers say the worst may not be over.
Liu Zhiyong, Political Commissar of Armed Police 11th Water & Electricity Detachment said "The newly built township of Yingxiu is safe now, generally speaking. But we have to be aware of the danger of more flood peaks because torrential rain is likely to continue for the next few days. Strong water flows threaten the embankment we've built to protect the town. Therefore the most important things now are to reinforce the dam, and carry out more explosions to blow up the debris and rubble that are blocking the river."
After Friday night's explosion, the level of the Minjiang River in Yingxiu has fallen by about four meters. Armed police are using steel baskets filled with stones, as well as sand and rocks, to reinforce the embankment.
More materials are on their way to the town, and the operation will continue 24 hours a day, until the threat of an overflowing river is over.
Related stories
Editor:Xiong Qu |Source: CNTV.CN