Watch Video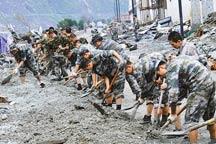 Play Video
The water that submerged Yingxiu county has subsided. After four days of tireless work, soldiers cleared nearly all the mud, bringing things in the county back on track. Peter Koveos takes a closer look.
At first sight, the situation in Yingxiu county doesn't seem very serious. But what you see now is after four days of clean-up.
The stains on the wall tell how bad the flood has been. The first floor of many homes have been smothered in mud brought by the water.
Tang Zeyong, Solder of Yingxiu County, Sichuan Province said "When we first came, the mud was a meter deep. No machines can dig through such thick mud, so we have to use our bare hands."
It's even hard to walk when your feet are stuck in sticky sludge. The water makes this bag weigh more than 50 kilograms. Soldiers have been working in this environment for more than four days.
Xia Jun, Solder of Yingxiu County, Sichuan Province said "I'm also from Yingxiu and my house has also been submerged. Luckily, my parents are fine. I have only been able to call them once the last ten days."
The mud has been almost cleared. Although not very clean, people can at least stand on solid ground in their homes.
The two-kilometer Binjiang Road covered by mud is no longer enveloped in sludge, allowing heavy machinery to come in for further repair work.
Editor:Xiong Qu |Source: CNTV.CN