Watch Video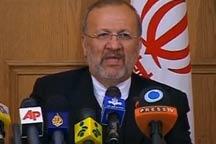 Play Video
Iran has started fueling its first nuclear power plant after decades of delay, amid the west countries' fears the country is seeking an atomic bomb, rather than simple electricity. Saturday's move marks a milestone in what the Islamic Republic considers its right to produce nuclear energy.
The week-long operation to load uranium fuel into the reactor at southern Iran's Busher Power Plant is the first step in starting up a facility the US once hoped to prevent, because of fears over the country's nuclear ambitions.
Over the next 10 days, 163 fuel assemblies -- equal to 80 tons of uranium -- will be moved inside the building, and then into the reactor.
It will then be at least another month before the 1,000-megawatt light-water reactor is pumping electricity to Iranian cities.
The nation's leaders deny any intentions to develop nuclear weapons, saying they only want to generate power with the network of nuclear plants they plan to build.
Manouchehr Mottaki, Iranian Foreign Minister said "We would like to produce our required nuclear fuel by ourselves, to meet our own requirements, and also because of the fact that, as a member of the Non-Proliferation Treaty, it is our right to produce fuel. Even in the future, if we do not need the fuel ourselves, we can give it to those who require it through a fuel bank."
Russia, which helped Iran finish building the plant, has pledged to safeguard the site, and prevent spent nuclear fuel from being shifted to a possible weapons program.
After years of delaying its completion, Moscow says it believes the Bushehr project is essential for persuading Tehran to cooperate with international efforts to ensure it doesn't develop atomic bomb.
Sergei Kiriyenko, Director of Rosatom Nuclear Energy State Corporation said "In our opinion it is important to work in the framework of the law -- and reach peaceful conclusions. Russia has always stuck to its promises -- both regarding bilateral relations, and its assistance in the Bushehr project."
The Bushehr Power Plant is not considered a proliferation risk because the terms of the deal commit the Iranians to allowing the Russians to retrieve all used reactor fuel for reprocessing.
Iran has also said International Atomic Energy Agency experts will be able to verify that none of the fresh fuel or waste is diverted.
Of greater concern to the West, however, are Iran's stated plans to build 10 new uranium enrichment sites inside protected mountain strongholds.
Related stories
Editor:Xiong Qu |Source: CNTV.CN