Watch Video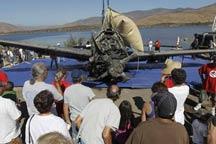 Play Video
A rare World War Two dive bomber has been lifted more than 27 meters from the bottom of a reservoir in San Diego, California. It was then hoisted to dry land for the first time in 65 years.
The Curtiss SB2C Helldiver aircraft was pulled from mud and debris on the floor of Lower Otay Reservoir. The aircraft was spotted last year by two fishermen using a fish finder. The plane will now be dried out, disassembled and trucked to the National Naval Aviation Museum in Pensacola, Florida, for restoration and display.
Salvage divers work on a platform above a sunken WWII airplane at a San Diego reservoir
Thursday, Aug. 19, 2010 in San Diego. The group, working with the National Naval Aviation
Museum, hope to remove the World War II dive bomber Thursday, that crashed after its
engine failed during a training exercise on May 28, 1945. (AP Photo/Gregory Bull)
The Helldiver crashed when the engine failed during a training flight in 1945. Only a few of the more than 5-thousand Helldivers manufactured during World War Two still exist. One of its nicknames was "The Beast" because it was so hard to handle.