Watch Video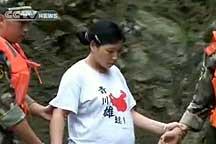 Play Video
Heavy rains and mudslides damaged roads in Guangyuan city, in southwest China's Sichuan province. Local authorities are trying to evacuate ALL those that have been stranded. In Qingchuan county, a woman, 8 months pregnant is among those trapped.
Wang Ya'e and her family live in Xinhua village, Qingchuan county, Guangyuan city, in China's Sichuan Province.
She is expecting to give birth next month.
But, roads in and out of her town have been destroyed by rain-triggered mudslides.
Armed police rushed to her home to get her out after hearing she was trapped.
She said, "I am so excited. The road was blocked by the landslide, if the soldiers cannot come, we can't be evacuated. It is terrible."
It took hours for the soldiers to reach her.
The only road to the village had become a river.
To ensure Wang's safety, they have to take each step very slowly, precariously hanging on to a single piece of rope.
After nearly 3 hours, they pass the Qingchuan river and arrive at a safe place.
A immediate medical check shows both mom and baby are in good condition.
Editor:Zhang Jingya |Source: CNTV.cn