Watch Video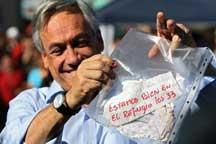 Play Video
Thirty-three miners trapped underground for more than two weeks in Chile are thankfully all still alive. President Sebastian Pinera, says a probe sent down the mine came back with a paper message saying, "All 33 of us are fine in the shelter."
The Chilean president joined authorities and family members in congratulations and hugs on Sunday. Sebastian Pinera euphorically waved the note written in red letters. They climbed a nearby hill, planted 33 flags and sang the national anthem.
Pinera says the piece of paper has been tied to a drill used to bore through to the miners.
But he says it could take months to get them out.
Rescuers said earlier it could take 120 days to dig a new tunnel.
Rescue workers sent down eight probes before reaching the shelter, nearly 700 meters underground.
The plan now is to send narrow plastic tubes down the bore hole with food, hydration gels and communications equipment.
The mine contains deposits of water and ventilation shafts that could help the miners survive.
Related stories