Watch Video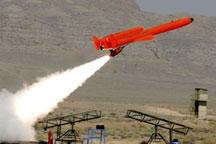 Play Video
Iranian President Mahmoud Ahmadinejad has inaugurated the country's first domestically built unmanned bomber aircraft, named Karrar or striker in the Farsi language.
Sunday, August 22rd was the national day for Iran's defense industry.
State TV showed the inauguration ceremony live and later released video footage of the plane taking off from a launching pad.
The four-meter-long drone aircraft can carry up to four cruise missiles and a payload of either two 113-kilogram bombs or one 204-kilogram guided bomb.
The drone aircraft has a range of one thousand kilometers. It travels at a speed of nine hundred kilometers an hour.
At the inauguration ceremony, the Iranian President said the aircraft is "an ambassador of death for the enemies," but also "has a main message of peace and friendship."
Ahmadinejad also says his country is determined to send its first astronaut into space by 2025.
Mahmoud Ahmadinejad, Iranian President, said, "Our next step is 700 kilometers, and the next one 1000 kilometers against gravity. If we succeed, then with developing the same 1000 kilometer rocket we can reach as far as 35 thousand kilometers. Afterwards it will be an easy task. We hope to reach there in two or three years."
The Iranian president championed the country's military self-sufficiency programme, saying it will continue "until the enemies of humanity lose hope of ever attacking the Iranian nation."
On Friday, Iran also test-fired a new liquid fuel surface-to-surface missile, the Qiam-1, with advanced guidance systems.
With the US and Israel warning they do not rule
out a military strike to stop Iran getting a nuclear bomb, the Islamic Republic has recently showed off a series of new weapons for strengthening its national defense.