Watch Video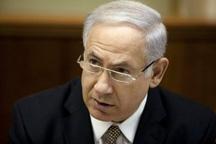 Play Video
Israeli Prime Minister Benjamin Netanyahu has convened his Cabinet, and commented on the new round of direct talks with the Palestinians, brokered by the US.
He warns, that achieving a peace deal will be difficult, but says his country will head into negotiations with a "real desire" to reach an accord.
Israeli Prime Minister Benjamin Netanyahu says any peace deal with the Palestinians should contain a three-level base, including the recognition of Israel as the "Jewish People's State," and the establishment of a "Demilitarized Palestinian State."
Benjamin Netanyahu, Israeli Prime Minister, said, "We talk about a peace agreement between Israel and a demilitarized Palestinian state. This state, if established by the end of this step, and this is what we talk about, is supposed to end the conflict, and not be the foundation to its continuation (the conflict) in different ways. The security, the recognition of the state of Israel as the Jewish people's national state, and the end of the conflict, are the first three layers that can promise us a real peace agreement, one that can last for many generations to come."
The Palestinian Executive Committee has also accepted the invitation of US Secretary of State Hillary Clinton, who says the diplomatic process can be completed within one year. But Palestinian negotiator Saeb Erekat thinks the effort won't last very long, unless Netanyahu extends a slowdown in West Bank settlement construction.
Saeb Erekat, Palestinian Negotiator, said, "The test is in front of us. If Mr. Netanyahu, on the 26th or 27th of September, decides to announce tenders ending the moratorium that he began 10 months ago, we cannot continue the negotiations. I would like to put this as clear as clear can be negotiations are not for the sake of negotiations. Now it's time for every side to honor its obligations and commitments, and we hope that the Israeli government will choose peace, not settlements, will choose reconciliation, and not the continuation of occupation."
Clinton will bring Israeli Prime Minister Benjamin Netanyahu and Palestinian President Mahmoud Abbas together on September 2nd, for the first formal round of direct talks since December 2008.
At that point, the parties will decide where and when to hold later meetings, as well as lay out exactly what is to be discussed.
American officials say follow-up sessions are likely to be held in Egypt.
Editor:Zhang Pengfei |Source: CNTV.CN