Watch Video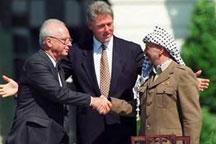 Play Video
Israeli and Palestinian leaders are expected to shake hands again in about 10 days. The resumed negotiations are aimed at reaching an agreement within a year. Over the past two decades, the process has been an "on and off" affair as Cui Lingnan explains.
In 1993, brought together by former US President Bill Clinton, Palestine Liberation Organization leader Yasser Arafat shook hands with then-Israeli Prime Minister Yitzhak Rabin in Washington. They signed the Oslo Peace Accord. Two years later, the duo signed the Taba Agreement at the White House, which authorized the enlargement of Palestinian territory.
In 1998, Bill Clinton, then-Israeli Prime Minister Benjamin Netanyahu, and Yasser Arafat held a meeting in Maryland. Both sides signed a temporary peace agreement. At the turn of the century, Clinton, Arafat, and then-Israeli Prime Minister Ehud Barak got together at Camp David, but failed to hammer out further plans. Two months later, mass bloodshed broke out between the two sides.
In 2007, former US President George W. Bush, PLO leader Mahmoud Abbas, and then-Israeli Prime Minister Ehud Olmert gathered in Maryland, hoping to reach an agreement before the end of the next year. But those plans were thwarted by a mass military conflict in the Gaza Strip.
Last May, US President Barack Obama's administration tried to mediate between the two parties, and restart peace talks, but the effort failed due to several key issues.
Finally, between Friday and Saturday, Israel's government and the PLO Standing Committee announced that they have accepted a new invitation from the US to resume peace talks that has been 20 months in the making.
This news brings hope that some progress may finally be achieved, but analysts say risks persist, such as how to build mutual trust? Will Israel say yes to new settlement construction, after a 10-month freeze? Will Hamas stage a new round of strikes?
It will require both positive political wisdom and determined diplomatic efforts to lead the two sides out of a long-running circle of talking and fighting.
Related stories
Editor:Zhang Pengfei |Source: CNTV.CN