Watch Video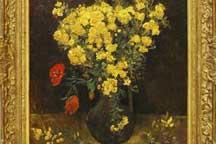 Play Video
Egypt's Culture Minister has retracted his claim that police have recovered a Van Gogh painting stolen from a Cairo museum. He now says the search for the canvas is ongoing.
Farouk Hosni said early on Saturday that police had confiscated the painting from an Italian couple at Cairo Airport, hours after it was stolen from the museum. But he later backtracked, saying the previous claim was based on inaccurate information.
He added that authorities are still searching for the missing piece. The painting goes by two titles, "Poppy Flowers" and "Vase with Flowers." Hosni says the piece is valued at around 50 million US dollars.