Watch Video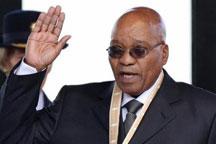 Play Video
Profile: South African President Jacob Zuma
Zuma was born in NKandla, Zululand (now part of KwaZulu-Natal) on April 12, 1942. His father died when Zuma was young and the impoverished life since his childhood has spurred him to study hard on his own. Full Story>>
South African President Jacob Zuma kicks off an historic State visit to China on Tuesday. He will lead a high-level delegation - including around 300 of South Africa's top business minds, as well as 13 ministers.
Trade relations between China and South Africa have expanded dramatically since the two countries first established diplomatic ties in 1998. Political ties between the countries are said to be strong - not only between the two governments, but also between the ruling parties, the African National Congress in South Africa, and the Communist Party in China.
During the two-day state visit delegates from the two G20 countries will discuss various multi-lateral issues on the global political agenda, such as the reform of the United Nations and climate change. But the main focus will be on strengthening bi-lateral economic ties between the two countries.
Dr Ayanda Ntsaluba, Director-General of SA Int'l Relations, said, "It's a very important visit for South Africa. As you know over the past 10 years there's been a very significant increase, in fact exponential increase in trade between South Africa and China.
Secondly, of course, everybody accepts that the global economic geography... the landscape is changing and power is shifting to the East and China is driving that. So for South Africa to establish good relations on the economic side with China is a very important thing."
China is South Africa's largest export destination...And South Africa - as a political and economic gateway to Africa - believes it has much to offer the Chinese when it comes to strengthening China's relations with the African continent as a whole.
He said, "On the South African side we are saying to China: Yes, the trade flows between our two countries has improved significantly. But if we are concerned that if you look at the structure of that trade, basically it is characterised by far much more of export of primary commodities from SA, but with a lot of value-added products from the Chinese side.
So what we want China to do, is to help us with our industrial strategy... to help us...so that will obviously mean that China must invest with building of factories, to help us create jobs, value-add into our products so that what we export to them... the character of what we export to them changes over time. And that is at the heart of really what we want to achieve out of this visit."
Related stories