Watch Video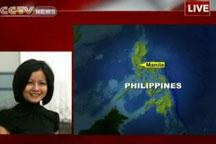 Play Video
Let's get the latest on this hostage crisis now and we're joined live on the phone by our Manila correspondent Candace Giron. Hello, Candace.
Q1: Earlier, the hostage taker sent a message, saying "media now". Can you update us on the latest developments there?
Q2: As I mentioned a few moments ago, several passengers have been released from the hijacked bus and are being given a check-up at Manila Hospital. Do you know how they're doing?
Tourists held hostage in Manila
Eighteen people from Hong Kong and the Philippines are still on a bus being held by a heavily armed former policeman in central Manila. <Full story>
P>
Editor:Zhang Pengfei |Source: CNTV.CN