Watch Video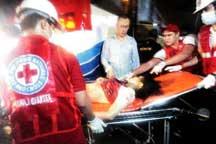 Play Video
The 12-hour standoff on a hijacked bus in the Philippines has come to an end. 21 Chinese nationals were held captive in a tourist bus taken by a dismissed policeman on Monday. 8 were killed in the incident.
Around 9 o'clock in the morning, local time, passengers from a tour arranged by the Kang Thai Travel Agency boarded the bus. The gunman then violently hijacked the vehicle. There were 25 people on the bus, including 20 Hong Kong tourists, a Hong Kong tour guide, and 4 Philippine citizens. Police say the hijacker was armed with M16 rifles.
At 10 a.m., after the hijacker announced his intentions, a tourist called the travel agency office in Hong Kong, informing people there of the incident.
The police then arrived. The road was cordoned off, with the bus isolated inside a park. Several ambulances and a fire engine were on standby. Staff members from the Chinese Embassy came to the spot to help with the rescue work. The President of the Philippines called on the hijacker to respect people's lives.
Between 10 a.m. and noon, 2 older Hong Kong tourists were released.
Then, 3 Hong Kong children, one Hong Kong woman, and one Philippine tour guide were released. Police offered food for those remaining on bus, and fuel to keep the air conditioning going during the heat.
At 4 p.m. 2 Philippine citizens were released.
In the late afternoon, it rained in Manila.
At around 7:20 p.m., the bus driver suddenly escaped, saying the gunman had fired on the hostages on the bus.
At about 7:30 p.m., the police surrounded the bus.
At 7:40 p.m., the gunmen posted demands through the bus window, indicating his intention to release the hostages.
At around 9 o'clock p.m., the police stormed the bus, and shot the gunman, Rolando Mendoza dead. Then at least 4 hostages were seen getting off the bus alive. The 10-hour event was finally over.
Related stories