Watch Video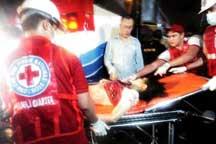 Play Video
China has strongly condemned the taking of Chinese tourists hostage in Manila.
Foreign Minister Yang Jiechi telephoned his Philippine counterpart Alberto Romulo, urging his government to thoroughly investigate the incident, and inform the Chinese side of details as soon as possible.
Yang Jiechi, says the Chinese government deplores the slaying of Hong Kong tourists, and strongly condemns the brutality against innocent tourists. For his part, Romulo said the Philippine government will do what it can to treat the injured, and carry out a thorough investigation.
At least eight tourists from Hong Kong were confirmed dead and another two seriously
injured in a bus hijack in Manila Monday, Chinese Foreign Ministry spokesman Ma
Zhaoxu said Monday night.
Related stories