Watch Video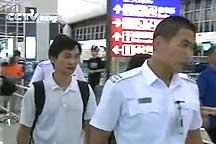 Play Video
In Hong Kong, Chief Executive Donald Tsang describes the incident as "a major tragedy". The Hong Kong government, has sent two chartered planes to take family members of the 21 Hong Kong tourists to Manila.
Victims' relatives went to Manila on Monday night and early Tuesday morning. Also on board were medics, community volunteers and psychologists.
Tsang has extended condolences to the families of those killed and injured in the incident. He says his government will provide everything needed to assist the families to overcome current difficulties.
Tsang said, "We have immediately mobilized our resources, our emergency measures. We sent out our personnel to Manila in almost the first instance on Monday. And we approached all possible resources, particularly through our point ministry and ambassador in Manila to look after this incident and extent whatever help we can. This is a major tragedy. It is disappointing that Hong Kong residents trying to make a pleasure trip to Manila ended up with death and casualties."
The Hong Kong government has issued a Black Outbound Travel Alert for the Philippines. The alert indicates a "severe threat" and all travel to the country should be avoided.
Meanwhile, the General Manager of the travel company, which operates the tour for the victims, says they have arranged for more than 50 tourists still in the Philippines to return to Hong Kong as soon as possible.
Lau Mei-Sze, Manager of Hong Thai Travel Agency, said, "Ok, currently we have three groups in the Philippines -- totally we have 53 people and start from tomorrow until 28, we have two tour groups totaling 68 people. Since the black travel alert has been hoisted or announced, we are going to cancel all tour groups starting from tomorrow until 28."
Hong Kong lowers the flag of the Special Administrative Region to half-mast on Tuesday to express deep sorrow over the death of the tourists.
Related stories
Editor:Zhang Jingya |Source: CNTV.cn