Watch Video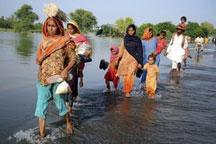 Play Video
Now, The Pakistani government and army used to be victims of much criticism. But all this has changed after their efforts to help millions of flood victims rebuild their lives.
Our correspondent Danial Khan looks at their efforts as they work to move their country forward after the recent surge in natural disasters.
According to Pakistan's government estimate, there has been a total loss of over 640 billion rupees in all the four provinces of Pakistan.
Experts say, the country has witnessed rainfall of a whole year in just a few days. Something not happened in 80 years.
Abdul Qadir Palejo, Executive Engineer, said, "This flood is making new era, making new history, unexpected unpredictable so we can't say anything, we can just pray to God water passes safely from here to the sea."
The government estimates at least 170,000 square kilometers, which means 22 percent of Pakistan's land mass, while more than 20 million, around 12 percent population is affected.
50 million acres of cultivable area that is 20 percent of 10 million acres of standing crops which include cotton rice and sugar cane have been lost.
"These are the cotton crops which were flooded by the over flowing water from the Indus river, destroying the fields. At the moment there is about 400,000 cusecs of water and it is expected to rise to 700,000 cusecs in the coming days. People have been evacuated from this site and the government and the military are helping out the locals to beef up the walls of the water reservoir."
Some might question the competence of the government and the effectiveness of their efforts, but the ground reality clearly shows their endeavor, even with minimum resources, both by way of assisting the displaced people as well as defending the lands against the rising tides.
Tartq Shah, Local Official, said, "There has been a lot of displacement, directly and indirectly. We have a lot of camps for people to come out and stay in. The government is helping them in every possible way. The way we are protecting this reservoir is that we are bringing in a lot of sand to increase the level of this reservoir."
For many affected people, the presence of the army and the government is reassuring.
Ghulam Hussain, Flood Survivor, said, "We will wait for the water to recede and then re-cultivate our land, God will help us. We have dealt with many problems in the past and we will deal with this one too. We have enough faith to not let this disaster clutch us down."
As the worst calamity in the history of Pakistan still continues, many believe that it is time for the national leaders to come together.
People of Pakistan have to rebuild their homeland from scratch, once again. They have lost a lot of their belongings, but salvaged what they could and are now heading for a destination, that may not even exist.
Hope is slipping out of their weak hands as they walk the paths that will soon be washed away by the silently rising waters.
Editor:Zhang Pengfei |Source: CNTV.CN