Watch Video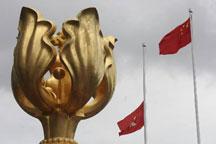 Play Video
Sadness and anger have gripped the people of Hong Kong over the bloody outcome of a hostage-taking in Manila. Nine tourists from the Special Administrative Region were killed.
The Hong Kong regional flags are flying at half-mast.
The Special Administrative Region is expressing grief and incomprehension over the the Hong Kong tourists killed in the hijacking in the Philippines.
Donald Tseng, Hong Kong Chief Executive, said, "We have now been able to verify the identities of the people who are actually injured and who unfortunately died on this occasion. We are now informing, approaching the families direct, breaking the poor news to them. And we will as soon as possible make a public announcement of the full list."
The mastheads of many Hong Kong newspapers were in black as a sign of respect to the victims.
The popular Apple Daily newspaper put its logo in blue instead of red.
Hong Kong's Ming Pao Daily News accused the Philippine police of incompetence in their handling of the standoff.
Hong Kong Resident, said, "I'm very sad, very unhappy, I think everyone in Hong Kong is feeling very unhappy."
Hong Kong Resident, said, "I think, I'm very sad, the loss of life is such a waste, the hostage-taker was too crazy, killing those innocent people."
At the Hong Kong Stock Exchange, staff held a minute's silence shortly before opening for business as usual at 10 o'clock this morning.
The Hong Kong SAR government has issued a warning against travel to the Philippines, cancelled planned tour groups to the islands and asked Hong Kong tourists still in the country to leave.