Watch Video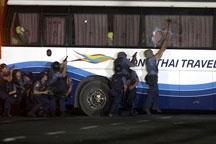 Play Video
Philippine police are being accused of incompetence in handling the hostage crisis. A closer look at the rescue operation raises a number of questions.
Failed Negotiation
55-year-old Rolando Mendoza was demanding his job back, saying he was unfairly sacked. The ex-policeman demanded a signed promise that his case would be reviewed, but its delivery was delayed for hours, and when it finally arrived he rejected it as insufficient.
The hijacker's brother was asked to talk to him through the driver's window but grew so agitated that police hustled him away, fearing he would inflame the situation.
Losing Chances
During the standoff, police had brought food for the hostages, along with fuel to keep the bus' air conditioning running in the 32-degree-Celsius heat. TV footage showed Mendoza standing beside the bus door several times, but police didn't take the opportunity to shoot him. Some believe the police were too optimistic to find a peaceful solution.
Inefficient Rescue
After the negotiation failed, Mendoza fired a warning shot. Police made an initial attempt to board the bus, but it looked like a hostage rescue in slow motion: Police creeping up on the bus with sledgehammers and smashing first one window, then another, then trying and failing to rip open the door. After an hour, when they finally got inside, authorities said, they found eight bodies.
The questions arising about the rescue operation have provoked demands from the Hong Kong SAR government for an explanation, and for more training and equipment for the Philippine police.
Editor:Zhang Pengfei |Source: CNTV.CN