Watch Video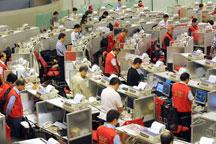 Play Video
Hong Kong residents have reacted with sadness and anger to the bloody outcome of the hostage situation in Manila.
The Hong Kong regional flags fly at half mast.
Newspaper headlines expressed grief and incomprehension at the deaths.
Many Hong Kong newspapers printed their mastheads in black as a sign of respect to the victims.
Hong Kong's Ming Pao Daily News accused the Filipino Police of incompetence in their handling of the standoff.
At the Hong Kong Stock Exchange, staff held a minute's silence shortly before opening for business as usual.
One Hong Kong resident said, "I'm very sad, very unhappy, I think everyone in Hong Kong is feeling very unhappy."
Another Hong Kong resident said, "I'm very sad, the loss of life is such a waste, the hostage-taker is crazy, killing all those innocent people."
Dozens of protestors rallied outside the Philippine Consulate in Hong Kong Tuesday attacking the way the Philippine government handled the crisis.
Vincent Fang, Legislative Councilor, said, "I think the whole tragedy was handled very unprofessionally by the Filipino government, and actually the whole situation could've been eliminated. There were so many chances that the situation could've been brought under-control but I don't think the Philippine government did anything."
China's Foreign Minister Yang Jiechi has telephoned his counterpart Alberto Romulo to voice his concerns about the handling of the incident.
Philippine President Benino Aquino has set-up an investigation team to review the actions of his police.
Editor:Zheng Limin |Source: CNTV