Watch Video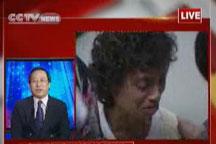 Play Video
For more analysis on the Philippine hostage crisis, we are joined by our current affairs commentator Gao Zhikai. Hello, Mr. Gao...
Q1. Hijacking of Chinese people has rarely happened in the past. Does this hostage crisis mean that the world is becoming more and more unsafe?
Q2. There are many claims that the Philippine police's handling of the hostage crisis was unprofessional. What lessons can we learn from this? How can we better protect hostages' lives in the future?
Related stories
Editor:Zheng Limin |Source: CNTV