Watch Video
Play Video
China and South Africa have announced a "comprehensive strategic partnership" as South African President Jacob Zuma makes a four-day state visit to China. President Hu Jintao and Zuma have signed a declaration, outlining 38 bilateral cooperation agreements.
It's Zuma's first visit to China since he became South African President in May 2009.
President Hu Jintao and his South African counterpart Zuma held one-hour of talks in the Great Hall of the People.
Hu Jintao says bilateral ties have been developing solidly since the two countries established diplomatic ties 12 years ago. He says China appreciates South Africa's firm support on the major issues, especially on the Taiwan issue.
Hu Jintao pointed out that the two sides should fully exert the functions of cooperative mechanisms to further implement the agreements both sides have signed. He also stressed the importance of communication between the ruling parties and legislative institutions of the two sides. Discussing economic cooperation, Hu Jintao says it's significant to push forward energy cooperation and improve financial services.
Zuma expressed his concern to the Chinese government over the latest floods and landslides across the country. He also says there's huge potential of further developing the South Africa-China relationship. The South African President expressed hope that, the two sides can also work together on major international affairs.
After the talks, the two Presidents signed the Beijing Declaration, covering issues ranging from political dialogues, trade, investment, mineral exploration and agriculture.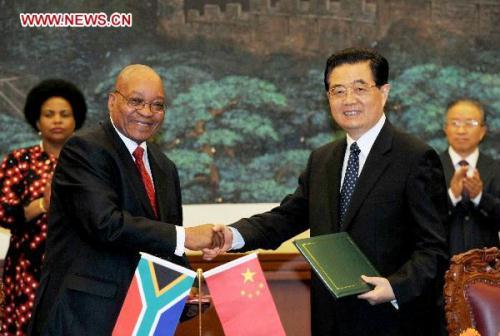 Chinese President Hu Jintao (R, front) shakes hands with South African President
Jacob Zuma after signing the Beijing Declaration on establishing a "comprehensive
strategic partnership" between the two countries in Beijing, capital of China, Aug.
24, 2010.(Xinhua/Rao Aimin)
Related stories