Watch Video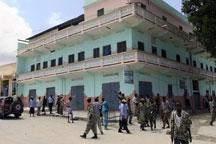 Play Video
At least 31 people have been killed, including 15 Somali MPs, in a hotel shooting in Mogadishu.
It's believed that the gunmen stormed into the Muna Hotel, in a government-controlled district, and started firing.
Soon after, Security forces surrounded the area and became involved in a shoot-out. Heavy exchanges of gunfire and explosions were heard all around the hotel.
On Monday, Islamist group Al-Shaba-ab called on fighters to wage "an all-out war" against Somali government forces and African Union peacekeepers. One gunman was arrested alive, the other two reportedly shot dead.
Editor:Zhang Pengfei |Source: CNTV.CN