Watch Video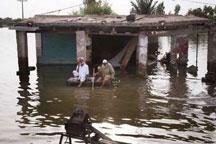 Play Video
The widespread misery caused by the floods in Pakistan has triggered worries about social unrest, food riots or even a challenge to the government's rule.
Pakistan President Asif Ali Zardari says it will take at least three years for the country to recover from the devastating floods.
In the Thatta region of Sindh province, laborers and local residents are piling up rocks, trying to prevent further devastation.
Manzoor Sheikh, Pakistani Engineer, said, "During this high flood, we are facing various problems on dams on right side as well as on left side. These problems are like erosion, leaks."
Meanwhile the Pakistani army is continuing to deliver relief packages by helicopter to the flood-ravaged areas of Punjab province.
Local charities and international agencies are providing food, water, medicines and shelter to the displaced.
Ian Woolverton, Spokesman of Save the Children, said, "We've set up a basic healthcare clinic here to provide basic medicines to the people affected. From nine in the morning to four in the afternoon, seven days a week, our doctors provide free consultations to people living in this school, and we provide them with basic medicines such as anti-malarial tablets, antibiotics and oral rehydration sachets to avoid severe dehydration."
Pakistani Prime Minister Yousaf Raza Gillani has met with the US Central Command Chief, General James Mattis, to discuss strategies for dealing with the crisis.
Pakistan's government says it will give 230 US dollars to every family affected by the floods, which the president describes as "initial assistance".
Editor:Zhang Pengfei |Source: CNTV.CN