Watch Video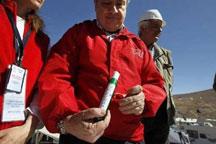 Play Video
Rescue work is continuing in Chile to save the lives of 33 miners who have been trapped for 19 days deep in a goldmine in San Jose. Meanwhile, a new digging machine has arrived to accelerate the process.
Relatives of the trapped miners might face a long time watching and waiting as experts estimate the rescue operation will possibly last for 4 months. But they have not given up hope.
Jonny Quispe, Miner's Relative, said, "At the start it was a great tragedy but now there is great hope and I think we must work with more cooperation between the various authorities."
Rescue workers have prepared to install a drill to dig an escape shaft for the miners.
Engineers started sending drinking water and medication through plastic pipes to keep the miners alive during the long rescue effort and and have set up an intercom.
One of the main challenges ahead is how to keep the miners in good spirits to get through their long time in the darkness.
Laurence Golborne, Minister of Mines, said, "They are providing different kind of elements to make them be busy and to try and manage all the teamwork that they have to do, et cetera. So they are going to establish a work plan to do it in the following weeks."
The miners are sheltering in a 50 square meter refuge, 700 meters inside the winding mine.
On Tuesday, the last piece of a powerful machine with diamond-tipped drills arrived at the scene. Rescue workers hope the new drill would speed up the rescue operation.
Editor:Zhang Pengfei |Source: CNTV.CN