Watch Video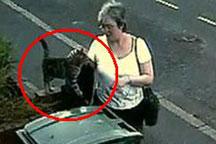 Play Video
British animal cruelty inspectors say they've tracked down a woman caught on closed-circuit TV throwing a cat into a rubbish bin. The footage posted online received angry reactions.
The footage was captured by the cat owner's personal surveillance camera in Coventry, central England. It shows a woman stroking 4-year-old Lola before grabbing the pet by the neck and dumping it into the nearby wheelie bin. The cat spent fifteen hours inside before it was rescued by its owner.
Darryl Mann, Cat Owner, said, "I'm glad they've found her. I'm glad it's got what it's got, and she's known for what she is now. Hopefully the police and the RSPCA will sort it out now"
After the footage was posted on Facebook, hundreds of groups emerged on the website, posting threatening messages to the woman.
"It's awful isn't it? A harmless cat like that,I mean what's the point of doing that?"
"They should take action against her because she shouldn't do that to a poor innocent animal."
Some of the comments were so extreme that police asked the owner to close the site. Authorities say they have identified the woman and plan to interview her.