Watch Video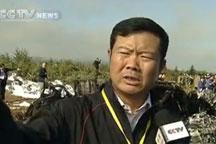 Play Video
Experts from China's Civil Aviation Administration have left for Yichun to take part in the investigation of Tuesday's deadly air crash.
Li Jian, Vice Director of Civil Aviation Administration, China, said, "We have made a preliminary investigation that the plane was struck by tree branch before it crashed. And we have set up 6 investigation groups to deal with the weather conditions, the planes capabilities, and air traffic control when the air crash occurred. But it may take a relatively long time before the results will be known. We will closely follow the investigation and make it public.
Meanwhile, Henan Airline and its majority shareholder, Shenzhen Airline, dispatched experts to deal with the disaster aftermath and related compensation. All flights of Henan Airline have been suspended.
Editor:Zhang Jingya |Source: CNTV.cn