Watch Video
Play Video
A passenger plane with 96 passengers and crew, burst into flames Tuesday night after overshooting a runway on landing, at a new airport in Yinchun in northeast China's Heilongjiang province. Local government has mobilized multi-force rescuers immediately after the crash. 42 bodies of victims were found at the crash site, and the remaining 54 survivors were taken to hospital.
The flight originated in the provincial Capital, Harbin. The jet reportedly broke into two pieces during its approach to the runway.
Some passengers were apparently thrown from the plane before the jet crashed. Some witnesses say a huge fire enveloped the wreckage after the crash.
Local public security, armed police, firefighters and ambulance personnel immediately rushed to the scene, to carry out a rescue and fire fighting operation.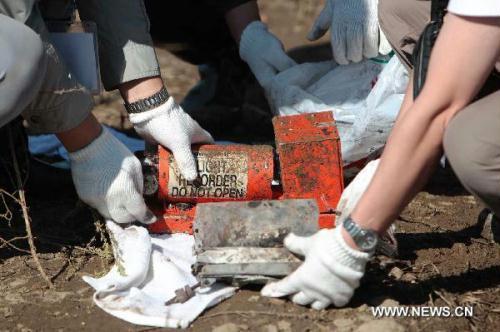 The black-box of a crashed passenger plane is found in Yichun City, northeast China's
Heilongjiang Province, Aug. 25, 2010. A passenger plane with 96 people on board
crashed late Tuesday night near the Yichun airport. At least 42 people were confirmed
dead while the remaining 54 have been rescued and sent to hospitals.
(Xinhua/Xing Guangli)
But a lingering heavy fog apparently hampered the rescue efforts. Visibility at the scene was only 200 meters before daybreak. The ground was messy with mud and water and covered with flies.
The armed police were divided into two groups and were searching different sides of the runway. Running the risk of explosions, firefighters went to the wreckage and controlled the fire.
The medical department immediately launched an emergency response after the crash. All of the city's ambulances were mobilized for the rescue. Most victims from the accident are receiving treatment at the city's Number One Hospital.
Crash survivor, said, "The plane started to shake violently as we were told it was approaching the airport. We were hit by the luggage from the overhead compartment. When the plane stopped shaking, the people in the back row started to rush forward. I asked others to open the emergency door, but nobody did. So I tried, but I couldn't open it. When smoke came in, we couldn't breathe for nearly one minute. Fortunately, as I rushed forward, I found a hole in the right corner of the first row."
A list of victim's names has been released. Officials in Yichun confirm that about 18 officials from the Ministry of Human Resources and Social Security were on board.
The plane's black box has been found, and an investigation into the accident is underway.
Henan Airlines had only recently started operating flights between Harbin and Yichun. The airline's service linking the two cities began just two weeks ago.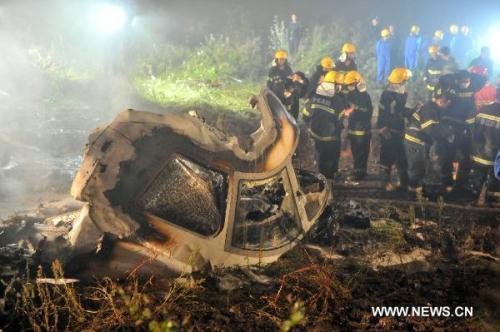 Rescuers search for survivors at the site where a passenger plane crashed in Yichun
City, northeast China's Heilongjiang Province, early on Aug. 25, 2010. A passenger
plane with 96 people on board crashed late Tuesday night the Yichun airport. At
least 42 people were confirmed dead while the remaining 54 have been rescued and
sent to hospitals.(Xinhua Photo)