Watch Video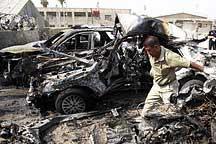 Play Video
33 people have been killed and scores more wounded in a string of devastating bomb attacks in Iraq. They came just one day after the number of US troops in the country fell below 50,000.
A suicide bomber attacked a police station in the southeastern Iraqi city of Kut, leaving 8 policemen dead, and at least 20 wounded. The deadly attack followed a series of explosions stretching from one end of the country to the other, including an attack in the north of the capital Baghdad. A suicide bomber detonated a car bomb in a parking lot behind a police station, killing 15 people, six policemen and nine civilians.
There were no claims of responsibility, but the scale and reach of the violence, targeting government institutions and security forces, underscores insurgent efforts to show their might as the American military presence in Iraq shrinks.
Editor:Du Xiaodan |Source: CNTV