Watch Video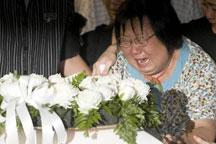 Play Video
A chartered plane has arrived at the Hong Kong International Airport. It was carrying the bodies of the eight victims in the hostage crisis in the Philippine capital of Manila.
Tour group members, and victims' relatives were also on board. Many of the survivors had already returned to Hong Kong. One of the wounded will remain in intensive care in Manila, and another will be brought back on another plane.
A ceremony was held at the airport for officials and families to pay tribute to and bid farewell to the victims. The coffins were separated by family members. The Chief Secretary for Administration of the Hong Kong government, Henry Tang, and family members of the dead presented two bouquets of white flowers for each of the eight victims.
The hostage crisis in Manila involved a 21-member Hong Kong tour group. It ended Monday night with eight hostages being killed. Several others were injured.
Henry Tang, Chief Secretary for Administration, HK Gov't, said, "The Hong Kong government announces that all Hong Kong people will stand in silent tribute for 3 minutes at 8 o'clock Thursday morning. The fact of the crisis will be the best consolation to the victims, the injured and their families.
We will continue to ask for the Philippine government to investigate the accident. We will cooperate if there is any need. The Philippine government promised to investigate fairly, and provide a report to us. We hope they will fulfill the report as soon as possible."
Relatives cry as they see the coffins of victims in Hong Kong, south China, Aug.
25, 2010. The charter plane carrying tourist group members, victims' relatives
and the bodies of the eight victims killed in Monday's hostage crisis in the
Philippines arrived at Hong Kong Wednesday. (Xinhua/Huang Xiaoyong)
Related stories