Watch Video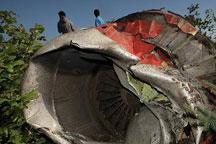 Play Video
China has begun an official probe into the Yichun plane crash which killed 42 people and injured 54 others. With the black boxes of the jet recovered for analysis, the central government has set up a special work group to investigate the cause of the crash.
Vice Premier Zhang Dejiang, who is leading an investigation team, called the work-group's first meeting Wednesday.
No details of the meeting have yet been released.
Initial probes and survivors' accounts indicate the plane missed the runway and crashed on the ground, bursting into flames.
And investigators say no signs of sabotage have been found so far.
Meanwhile, Henan Airlines, the aircraft's operator, has cancelled all flights for safety reviews.
Henan Airlines' operations, based in a central China province with the same name, will be suspended for an unspecific time.
In a related move, the board of directors of Henan Airlines has sacked the airline's general manager Li Qiang and appointed an acting manager to replace him.
The carrier was previously known as Kunpeng Airlines and was only relaunched as Henan Airlines last year. It is run by Shenzhen Airlines and offers mainly short-distance flights.
Editor:Zhang Jingya |Source: CNTV.cn