Watch Video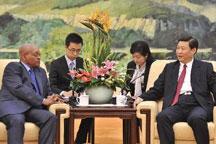 Play Video
Visiting South African President Jacob Zuma has hailed the strengthened bilateral ties, between his country and China. At a press conference in Beijing, he told reporters, that the expanded partnership will result in further cooperation. Zuma also says South Africa wants to join BRIC emerging countries, as the groups plays an important role in world affairs.
A state visit that's been a revival of bilateral relations.
South African president Zuma told reporters, the comprehensive strategic partnership forged by the two sides during the visit lifts bilateral ties to new highs.
Zuma said, "The key element of this expanded partnership is partnership for growth and development, focusing on key issues, such as beneficiation, and value addition, to resources, infrastructure, market access, and trade, in south African region, and Africa as a whole."
The visit to China was the last leg of Zuma's tour of the BRIC countries -- Brazil, Russia, India and China. Answering questions from reporters, Zuma says South Africa wants to be included in the BRIC nations.
He also said, "We have been in discussion with all members of the BRIC, individually, and expressed a desire to join the group. Now we are in the end of BRIC to take the decision. We believe they will take a favorable decision. Partly because we think that BRIC played an very important group in the changing world today, and Africa is part of that."
Analysts say it shows the strong willingness of South Africa, to seize opportunities in rapidly growing emerging nations.
CCTV reporter Guanxin said, "South Africa is tapping trade and investment in BRIC countries, to make up for the downturn in traditional markets. The emerging arc of growth, stretching from China, through India, and into Africa, will play an increasingly important role in world economy."
Editor:Zhang Jingya |Source: CNTV.cn