Watch Video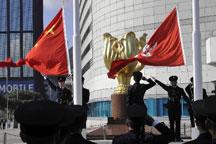 Play Video
Hong Kong has lowered the national and regional flags to half-mast, to mourn the eight victims of Monday's hostage crisis in Manila. A condolence ceremony has been held outside the city's landmark Convention Center. At the ceremony, Chief Executive Donald Tsang and other senior officials paid their respects to the victims.
It was another solemn time for the Hong Kong SAR.
Both the national flag and regional flag were raised then lowered to half-mast.
Chief Executive Donald Tsang and other senior officials observed three-minutes silence to extend their respects to the eight who were killed in the hostage crisis in Manila.
Hong Kong's 7 million residents were called on to stop and observe the silence.
Mr.Gwai, Hong Kong resident, said, "I hope that the families will hold up, and come to terms with their loss. The dead can't come back to life. The most important thing is for them to take care of themselves. The people who lost their parents have to get through this somehow. Don't despair, Hong Kong people will support them, we will definitely support them."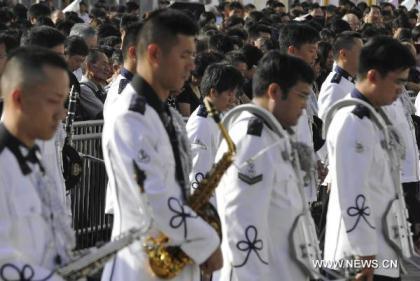 Honor guards attend a mourning ceremony at the Golden Bauhinia Square
in Hong Kong, south China, Aug. 26, 2010. Hong Kong Chief Executive
Donald Tsang led senior government officials in a mourning ceremony in
Golden Bauhinia Square Thursday morning for victims in the hostage-taking
tragedy in Manila, the Philippines. (Xinhua/Huang Xiaoyong)
"We'll support the survivors, to help them hold up through this." Another Hong Kong resident said.
It's been a difficult three days for the city, since Monday's tragedy unfolded.
The SAR government says more memorial events for the victims of the bus hijacking in Manila are planned in Hong Kong over the coming days.
Editor:Zheng Limin |Source: CNTV