Watch Video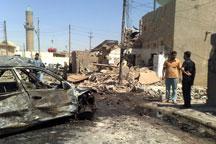 Play Video
Iraqis are blaming al Qaeda and members of the former Baath party for a series of attacks on Wednesday that killed up to 60 Iraqis. People are calling for a swift formation of government to end the political vacuum.
These have been the deadliest attacks in two years. So far, at least 62 people are confirmed dead and 250 wounded.
They were victims of coordinated attacks by suicide bombers and other attackers. The attacks mostly targeted security forces. At least half of those killed were Iraqi soldiers and policemen. Iraqi citizens are urging the formation of a government.
Iraqi citizen said, "We blame al Qaeda and remnants of the former regime for yesterday's bloody blasts. It is also a message addressed to the security forces and the government. Despite the withdrawal of US troops, we have confidence in Iraq's security forces to ensure security. We call on the government to speed up the formation of the government and we believe that the blasts aim to hamper the formation of the government and abort the political process."
It is less than a week before US troops formally end combat operations. Some people are angry, blaming the incapability of the government and the fragility of security forces.
Ahmed Al-Samaraei, Iraqi citizen, said, "Enough of bloodshed and enough of an indifferent attitude towards the Iraqi people. I hold the government, and in particular the general commander of the armed forces, responsible for these crimes that happen in Iraq."
Iraqi police say early on Thursday six members of a government-allied Sunni militia were killed in an ambush by insurgents in eastern Iraq.
Editor:Zheng Limin |Source: CNTV