Watch Video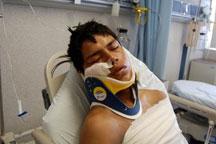 Play Video
Mexican officials are carrying out an investigation into the 72 victims murdered at a ranch in Tamaulipas state in Mexico.
The bodies of 58 men and 14 women were discovered on Tuesday. According to the migrant who raised the alarm, the victims were illegal migrants from Brazil, Ecuador, El Salvador and Honduras who were killed by a drug gang. He says the migrants' abductors identified themselves as Zetas, a drug gang started by former Mexican army soldiers.
The Zetas gang is known to extort money from migrants who pass through its territory. Authorities say they are trying to determine whether the 72 victims were killed at the same time and why. The US National Human Rights Commission says in a recent study some 16-hundred migrants are kidnapped in Mexico each month.
Mexican officials are carrying out an investigation
into the 72 victims murdered at a ranch in Tamaulipas
state in Mexico.(File Photo)
Editor:Zheng Limin |Source: CNTV