Watch Video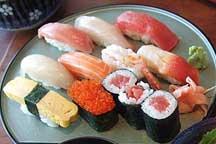 Play Video
Europeans are indulging their love of Japanese cuisine by flocking to Tokyo's sushi academy to master the art of traditional Japanese cooking. Some of the students hope to become pioneers of the booming industry back in their home countries.
Matthias Weise from Germany isn't like other westerners walking the streets of Toyko on vacation. He spends his days studying hard, mastering a centuries old Japanese tradition-- the art of sushi making.
He is a student at the Tokyo Sushi Academy located in heart of Tokyo, working on the all-English course.
Matthias Weise, Student Tokyo Sushi Academy, said, "In the past a lot of Asians came to Europe to learn our way of doing things, for example how to bake bread. Now it's exactly the other way round."
Working at an Asian fusion restaurant in Hamburg for two years, Weise found the Asian way of cooking with natural ingredients very appealing to Europeans.
After finishing the 8-week course and apprenticeship at local sushi restaurant, Weise plans to continue his adventure into Asian food in Vietnam.
A majority of Weise's classmates are foreigners....from UK, Germany, Italy, Belgium, Brazil and the Philippines where healthier Asian dishes like sushi are rapidly gaining popularity.
Ferdinando Puocci, Student Tokyo Sushi Academy, said, "Right now opening this type of restaurant in Italy is a good business opportunity. It would be a pioneer in this field back home."
Despite the expensive tuition of more than 10-thousand US dollars, plus the high living cost in Tokyo, trainees believes the skills they learned will pay back with bigger salaries or profitable business back home.
Editor:Du Xiaodan |Source: CNTV