Watch Video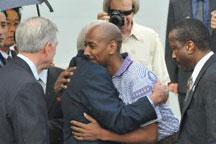 Play Video
Former US President Jimmy Carter has succeeded in his bid to secure the release of a US prisoner from the Democratic People's Republic of Korea.
Right now, they are both on a plane heading home for the states. Political analysts say this outcome proves Carter still has strong political clout.
Jimmy Carter boards a jet with Aijalon Mahli Gomes, the US man detained by the DPRK almost 9 months ago. They are expected to arrive in Boston later Friday local time.
The US State Department has welcomed the release of Gomes and says it appreciates Carter's humanitarian effort. It also welcomed the DPRK's decision to grant Mr Gomes special amnesty to allow him return to the US.
Aijalon Gomes became the fourth American to be arrested in the DPRK in 12 months for illegally entering the country. Gomes was arrested in January this year.
In April, Pyongyang sentenced the 30-year-old to eight years of hard labor and fined him 70 million won for trespassing. That's more than 600 thousand US dollars.
Carter is the second former US President to visit the DPRK to secure the release of US prisoners. The Previous visit to the DPRK was made by Bill Clinton.
During Carter's visit to the DPRK, he also met with the country's number two ranked official, Kim Yong Nam.
Kim expressed the will of the DPRK government to achieve denuclearization on the Korean Peninsula, and the resumption of six-party talks.