Watch Video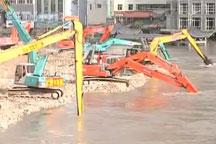 Play Video
Work crews of the armed police engineer's unit have expanded their working area along the barrier river in flood-hit Zhouqu county in northwest China.
Floodwater from the August 7th rain-triggered mudslide submerged Binjiang Road, the main road of Zhouqu County in Gansu Province.
Heavy machines are digging the riverway along the submerged road, to divert the floodwater. Officials said the water is flowing at 300 cubic meters per second, or 3 times faster than the previous speed.
The working team is now trying to expand the riverway in the higher-reaches of the river, which will release the floodwaters more quickly.
Zhou Qingfeng, Captain, 3rd. Engineer Unit of Armed Police, said, "Next, we'll work to deepen and widen the river way, discharging the floodwater quicker. As long as the water level of the higher-reaches of the river falls, the cleaning work will be guaranteed."
Editor:Zhang Pengfei |Source: CNTV.CN