Watch Video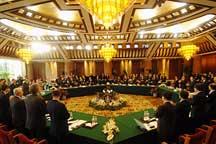 Play Video
Let's now take a look at some of the background and history to the six party talks.
The six-party talks aim to find a peaceful solution to the security concerns over the Democratic People's Republic of Korea's nuclear program.
The six sides refer to the DPRK, South Korea, China, United States, Russia and Japan.
The first round of talks started in August 2003 with senior officials from the six countries gathering in Beijing. After the meeting, a Chairman's summary was agreed for further round of talks.
In February 2004, the second round kicked off. A chairman's statement was announced with seven articles, including denuclearization of the Korean Peninsula and peaceful co-existence of participating states. Six parties also agreed to hold the third round of talks during the second quarter of 2004.
In 2005, the first Joint Statement was issued from the fourth round of talks. In the paper, the DPRK agreed to abandon all nuclear programs and promised to return to the Non-Proliferation Treaty as soon as possible.
The same year, in the fifth round of talks, six sides agreed on a significant Chairman's Statement. They reaffirmed their commitment to an action-to-action manner to solve the nuclear issue.
In 2007 in the sixth round of talks, the DPRK confirmed its agreement to disclose all nuclear programs and disable all facilities related to its nuclear programs.
However, on the 5th April of 2009, the DPRK proceeded with its announced satellite launch, despite international pressure.
On the 13th April, the UN Security Council agreed to a Presidential Agreement, condemning the DPRK's satellite launch and stating the Council's intention for further sanctions.
One day later, the DPRK said it will never again take part in six party talks and will not be bound by any agreement reached at the previous rounds of talks.
Related stories
Editor:Zhang Pengfei |Source: CNTV.CN