Watch Video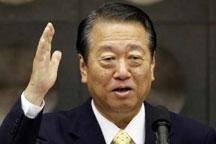 Play Video
The Democratic Party of Japan's top power broker, Ichiro Ozawa, says he will challenge Prime Minister Naoto Kan in an organizational leadership vote next month.
Japanese media sources are expressing worry that the announcement may trigger a political battle, and push aside economic problems in urgent need of attention.
The Wall Street Daily says Ozawa's announcement could inject instability into Japanese politics.
Economists are concerned that a leadership battle may cause the yen to increase in value, while the stock market plunges. But even some of Kan's backers claim Ozawa's political skills may be just what the party needs.
The DPJ kingmaker recently criticized the Prime Minister for his possible plans to double the country's sales tax. The party will hold an election on September 14th.
Editor:Zhang Pengfei |Source: CNTV.CN