Watch Video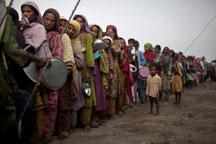 Play Video
Villages in Pakistan's Sindh province continue to be inundated as floods spread across the country. So far, there's been no sign of a reprieve for up to 20 million people affected by the devastation.
Floodwaters have breached defenses at Kot Aalimo village, after submerging nearby Sorjan. Residents say the flooding occurred suddenly.
As large numbers of people continue to be displaced by the raging waters, elderly people and children are among the most vulnerable.
Ismail Baba, Elderly Villager, said, "We are here at Kot Aalimo and there across the water is our village, Sorjan. There are at least 250 houses and all are inundated."
The United Nations says up to 3.5 million children are at high risk from deadly water-borne diseases.
Amanullah Khan, Local Resident, said, "Diseases are spreading because of the floods. The skin on children's feet is getting infected. They also have upset stomachs and gastric problems. All sorts of ailments are affecting them. They are also getting eye infections. We have received no help from the government. There is no medical camp here."
Floodwaters are now threatening Sujawal city, one of the most densely populated cities near the river Indus in Sindh province.
A month of flooding has killed nearly 1,600 people, left more than four million homeless and affected over 20 million lives in the country.
Editor:Zhang Pengfei |Source: CNTV.CN