Watch Video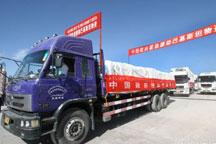 Play Video
China is sending another batch of relief supplies worth 20 million yuan to flood-stricken Pakistan.
The emergency humanitarian aid includes flour, rice and oil.
It will be flown to Pakistan from Kashgar in Xinjiang Uygur Autonomous region and is scheduled to arrive on Saturday.
The rest of the promised relief goods will reach Pakistan before Monday.