Watch Video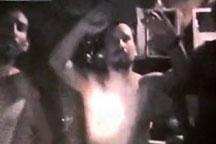 Play Video
New footage has emerged of the 33 miners trapped almost a kilometer underground in a Chilean mine.
The men are trying to keep busy and get into a routine as they wait to be rescued. The Chilean government says that could take up to four months.
The miners seemed to be in good spirits, waving and laughing as they filmed one another.
This footage was shot with a camera sent into the mine through a bored hole used for communications.
Two more holes have been drilled to lower food and water to the men and provide ventilation.
These holes are now the miners' lifelines to the outside world, where their loved ones anxiously wait for them to return to the surface.
Elizabeth Segovia, Sister of Trapped Miner, said, "Patience, there is nothing else. If God gave us the patience and fortitude to be with them when we didn't know if they were even alive, now there is even more reason to stay."
Local officials say it could take up to 4 months to rescue the miners. Other experts say it will take far less time than that.
The plan is to drill another hole into the miners' underground shelter and lift them out on a pulley system one at a time.
The US is helping out by providing authorities with physical and mental health advice.
P.J. Crowley, Spokesman of US State Department, said, "There is a dialogue going on between Chile's Ministry of Health and NASA, where we have great deal of experience regarding medical, nutritional and behavioral issues related to the space travel that we have done for decades and are providing that perspective to Chile so it can develop a programme for helping to sustain these miners."
Lawsuits against the mining company and the Chilean government have been filed. It's believed the men and their families could share in 1.8 million US dollars compensation.
Editor:Zhang Pengfei |Source: CNTV.CN