Watch Video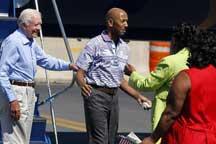 Play Video
Former US President Jimmy Carter has returned to the United States from the DPRK with an American citizen freed by Pyongyang.
Carter and Aijalon Mahli Gomes arrived in Boston, Massachusetts, by the same jet.
Gomes was detained by the DPRK on January 25th for illegal entry into the country.
On April 6th, Gomes was sentenced to eight years' imprisonment and fined about 700-thousand US dollars.
Carter arrived in Pyongyang two days ago to negotiate the release of Gomes. He held talks with the President of the Supreme People's Assembly, Kim Yong Nam.
The US State Department welcomed the release of Gomes. It said in a statement that it "appreciates former president Carter's humanitarian effort and welcomes the DPRK's decision to grant Gomes special amnesty and allow him to return to the United States."
Carter was the second former US president who visited the DPRK in a year to discuss the release of US detainees in the country.
Bill Clinton last August visited the DPRK and secured the release of two American female journalists who had been detained for illegal entry.
American media has noted that the DPRK's invitation to Carter this time and its release of the detainee may be interpreted as a sign of reconciliation.
However, analysts say as the situation on the Korean Peninsula has changed dramatically in recent years, Carter's visit may not have a deciding impact on the peninsular situation or on US-DPRK relations.