Watch Video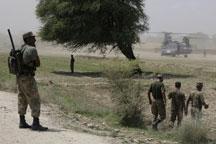 Play Video
The Pakistani government is vowing it will protect foreign aid workers against attacks from the Taliban.
In recent days, the militant group has issued a veiled threat against relief organizations helping out in the country's flooding crisis.
Hundreds of thousands of people have fled floodwaters after the surging River Indus smashed through levees.
But many refused to leave the danger zone while others took shelter in an ancient graveyard for Muslim saints.
The Pakistani Taliban has hinted they might attack foreign aid workers. The militant network has a history of attacking aid groups, including agencies under the UN umbrella.
Pakistan's information minister promised to protect those who are helping in flood relief efforts.
Qamar Zaman Kaira, Pakistan's information minister, said, "The Taliban are basically threatening the whole nation, the whole world. And if this mess goes on, then this is in their benefit, this is in the benefit of all those who are against the interests and against the peace of Pakistan and the region and the world. So they will threaten the people but their capacity and capability is now not that much. And whosoever, the aid workers, health workers who have come here, federal agencies and the provincial agencies, like police and others, as well, we will provide them proper security."
The Taliban threat is likely to complicate the massive relief effort, while more than 8 million people are in need of emergency assistance across the country.
The United Nations, the Pakistani army and a host of other local and international relief groups have been rushing aid workers, medicine, food and water to the affected regions.
Aid organizations have noted Pakistan has long been a high-risk environment for foreigners, and say Pakistan's security plans have taken such concerns into account.
Editor:Zhang Pengfei |Source: CNTV.CN