Watch Video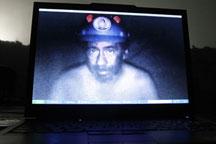 Play Video
Chilean rescue workers have released a video showing footage taken inside the mine in which 33 miners remain trapped.
Meanwhile, the main drill the rescuers will use to dig out the trapped miners has been taken to the excavation site.
Under police guard and surrounded by rescue workers, the heavy machine moved slowly towards the spot where drilling will take place.
With the addition of the new drill, rescue workers are full of hope.
Raul Gomez, Rescue Worker, said, "This is what is going to save the old guys."
On Thursday, rescue workers released a video showing the life of 33 miners 700 meters down below the ground.
Miners were playing cards and singing the Chilean national anthem.
Several miners sent messages to their families and to rescue workers above ground.
The images relieved family members who have been camping out near the mine.
Fresh clothes, medicine and games are being sent down through a bore hole to help the miners survive.
A second narrow bore hole is dedicated to channeling drinking water and keeping communication flowing.
By early next week, a phone line will be set up so that miners can talk with their families. By then, work should have begun on their escape tunnel. Experts have estimated that the rescue work might take 4 months.
Editor:Zhang Pengfei |Source: CNTV.CN