Watch Video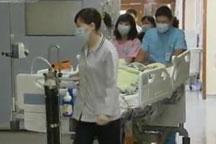 Play Video
The wounded hostages from the Manila crisis are being treated in Hong Kong hospitals, and recovering after being flown home from the Philippines. Meanwhile, residents in Hong Kong are still mourning the victims.
18-year-old Leung Song-xue was badly injured during the crisis.
His father and two sisters were among the victims of the incident.
He is recovering after undergoing 5 hours of brain surgery Thursday night.
The neurosurgeon says the pressure should stabilize in the next week or so.
The Hong Kong SAR Chief Executive, Donald Tsang, came to visit him and others that were wounded. Leung's mother was among the people Tsang visited.
He says the victims may be buried in a Hong Kong cemetery for victims and heroes.
Donald Tsang, Hong Kong Chief Executive, "Leung Song-xue is in a stable condition and Mrs. Leung is also peaceful. The Hong Kong government will take great care of the survivors and if the families agree, they will bury the 8 victims in JingYang Garden."
Two other victims are in stable condition in another Hong Kong hospital.
Tens of thousands of Hong Kong residents signed condolence books the past 3 days.
18 memorial areas have been set up throughout Hong Kong to mourn the hostage victims.
Related stories
Editor:Zhang Pengfei |Source: CNTV.CN