Watch Video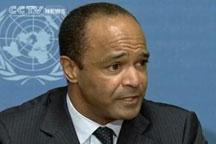 Play Video
A United Nations human rights body has rebuked France for its repatriation of Roma migrants, urging the government to instead try integrating members of the EU's biggest ethnic minority, as part of a continent-wide solution.
The UN Committee for the Elimination of Racial Discrimination, known as CERD, also voiced concern that some of the hundreds of Roma migrants deported from France to Romania had not been fully informed of their rights, or had not freely consented to return to their homeland.
Pierre-Richard Prosper, Cerd Vice Chairman, said, "We understand that a state has a right and a responsibility to deal with security issues and issues of illegal immigration. But our view is, when you are doing so, it should not be on a collective basis. You should not be targeting a group as a
whole. Individual assessments need to be conducted, and look at each particular circumstance of each individual, and decide does he or she merit a return, or should be allowed to stay."
CERD's conclusions have sparked a swift rebuttal by the French Foreign Ministry. It says the government is "scrupulously respecting" European Union laws, and examining cases one by one.
The Ministry also notes that Roma migrants have to respect public order, and should not be an economic burden on a host country. Campsites have been dismantled and, in some cases bulldozed away, on orders from President Nicolas Sarkozy, whose tough law-and-order rhetoric helped sweep him to power in 2007.
Opposition parties have accused him of targeting Roma migrants in a crime crackdown, with the goal of boosting his record-low popularity ratings before the next election in 2012.
Related stories
Editor:Zhang Pengfei |Source: CNTV.CN