Watch Video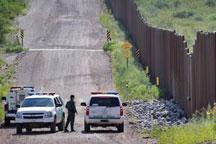 Play Video
American authorities have stepped up efforts to patrol a new front in the battle against illegal immigration along the Pacific Ocean and the coast of Southern California.
With the light glittering along the shoreline, a patch of speedboats are busy patrolling in an effort to stop maritime smuggling.
These speedboats are driven by US Customs and Border Protection officials. Their mission is to patrol a 560-square kilometer expanse of water that stretches from Tijuana in Mexico to suburban Los Angeles.
Over the past year they've arrested 736 suspected illegal immigrants.
But the sea is a vast terrain, it's impossible to cover the area properly.
John Morton, Director, US Immigration and Customs Enforcement, said, "It's a needle in the haystack. No question the sea is a vast terrain. That's why we have, however, this coordinated approach and if all you're relying on is just border patrol agents at water's edge or in the CPB boats at water's edge it's going to be tough and it's going to be looking for a needle in a haystack."
Gambling their lives, migrants are increasingly looking to the sea, as they consider land crossings to be even more arduous, and more likely to end by getting caught.
At up to 5,000-thousand dollars a person, it's roughly twice the fee to cross illegally over land. At prices like this, one overnight trip can generate around 100-thousand dollars.
Editor:Zhang Pengfei |Source: CNTV.CN